With this review and the next two, I want to complete my long-delayed series of reviews about travel in Asia in pre-Covid times. The first review on this subject, published more than a year ago, concerned JetStar's flight from Hong Kong to Singapore.

In this In the same review, we will talk about the next route - from Singapore to the capital of Malaysia, the city of Kuala Lumpur. For flights between two Asian cities, I chose the Singaporean airline Scoot. The review turned out to be long, because there are many impressions left from the Singapore airport that I would like to share.

Content:
1. Purchasing a ticket
2. Departure from Singapore - check-in at terminal 2
3. Terminal 2 Arrivals
4. Skytrain
5. Terminal 1 - departure hall
6. Changi Airport Clean Zone
7. On board an Airbus A320 of Scoot
8. Arriving at Kuala Lumpur Airport (KLIA2)


1. Buying a ticket

I'll start by buying a ticket. Like many carriers, the most reliable way to book a ticket is on the carrier's official website. That's exactly what I did in this case, make a reservation at www.flyscoot.com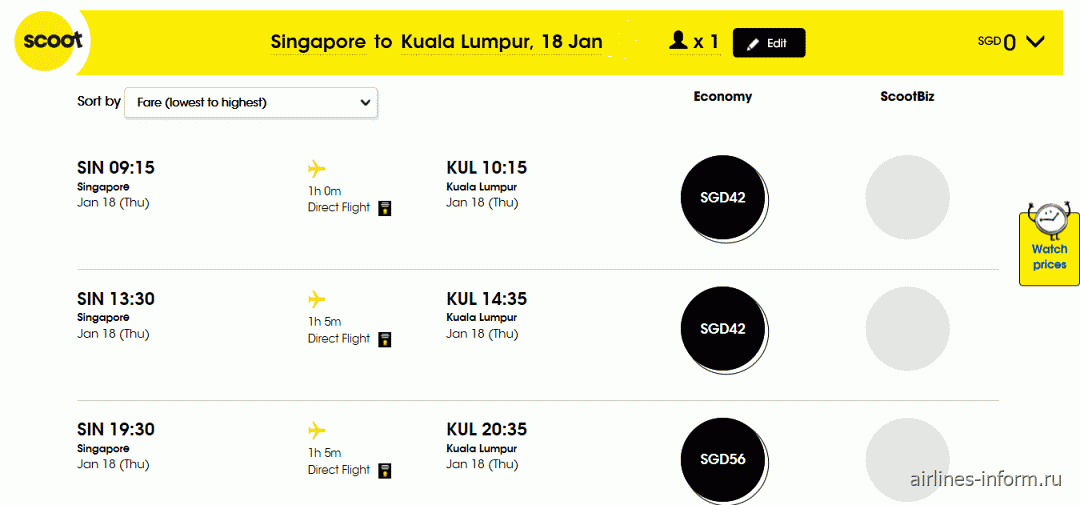 Scoot uses 3 types of fares:
Fly - the cheapest fare without baggage (in my case, this ticket cost 42 SGD (Singapore dollars)=approximately 2500 rubles),
FlyBag - fare with 20 kg baggage (adds 24 SGD=1500 rubles),
FlyBagEat - food in addition to baggage (+41 SGD=2400 rubles).

Some flights (probably wide-body Boeing 787s) still offer ScootBiz business class fare. It wasn't on my flight.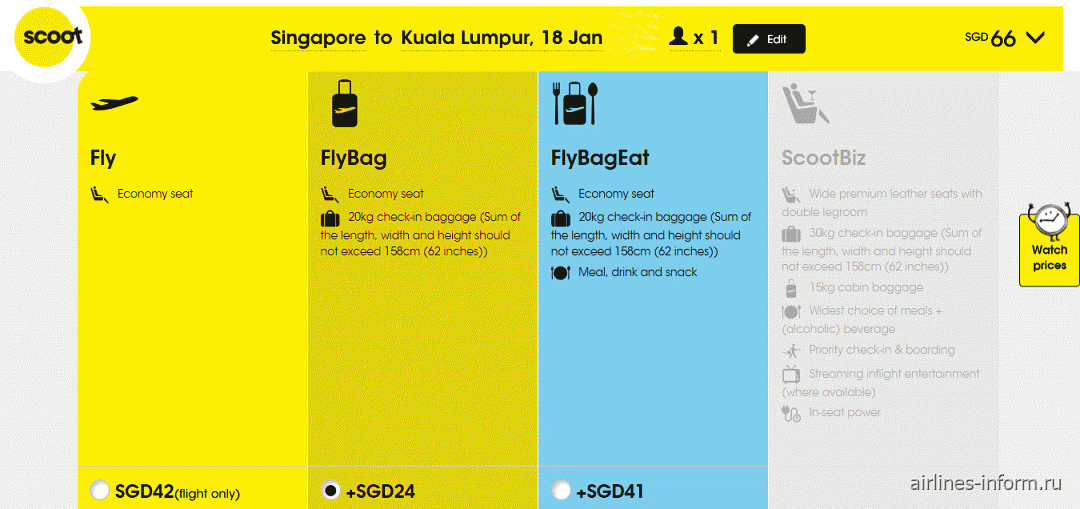 There is a separate fare scale for baggage. If you need to transport more than 20 kg, then this is also possible up to 40 kg, but the surcharge will be 10 SGD for each additional 5 kg.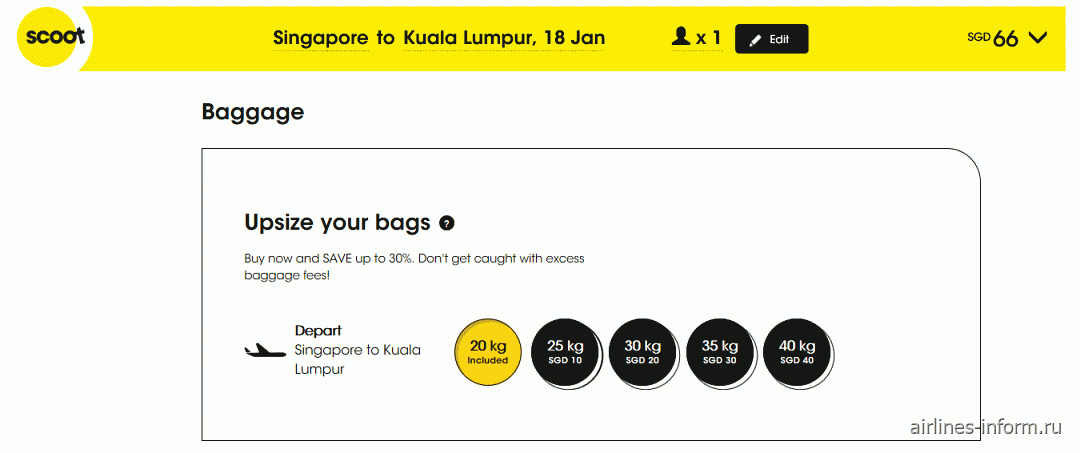 Further, the sale of insurance. Completely unnecessary, in my opinion, fees that only serve as a source of additional income for airlines.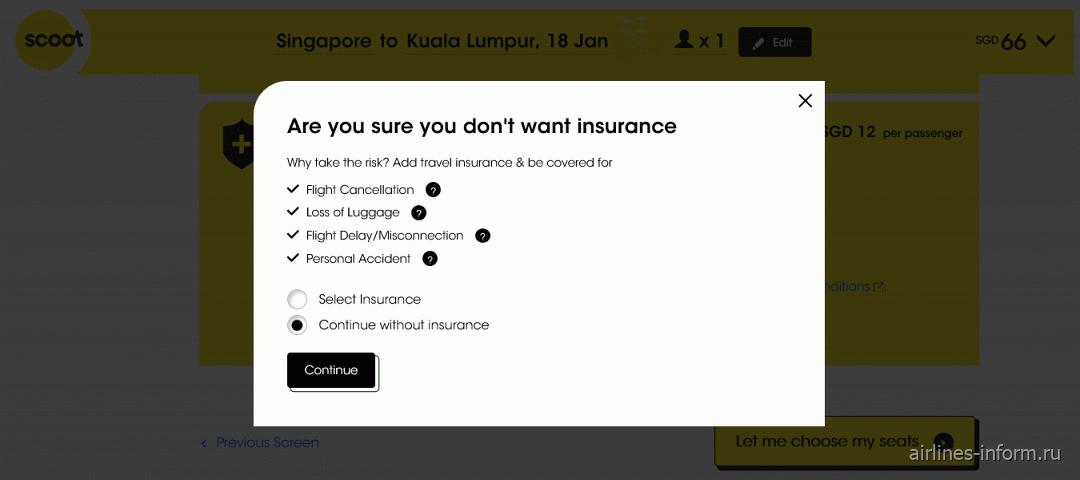 Flight meals can be ordered immediately on the website. The pictures of the dishes look very attractive. Prices are 17 SGD (1000 RUB) for a regular portion and 22 SGD (1300 RUB) for premium dishes.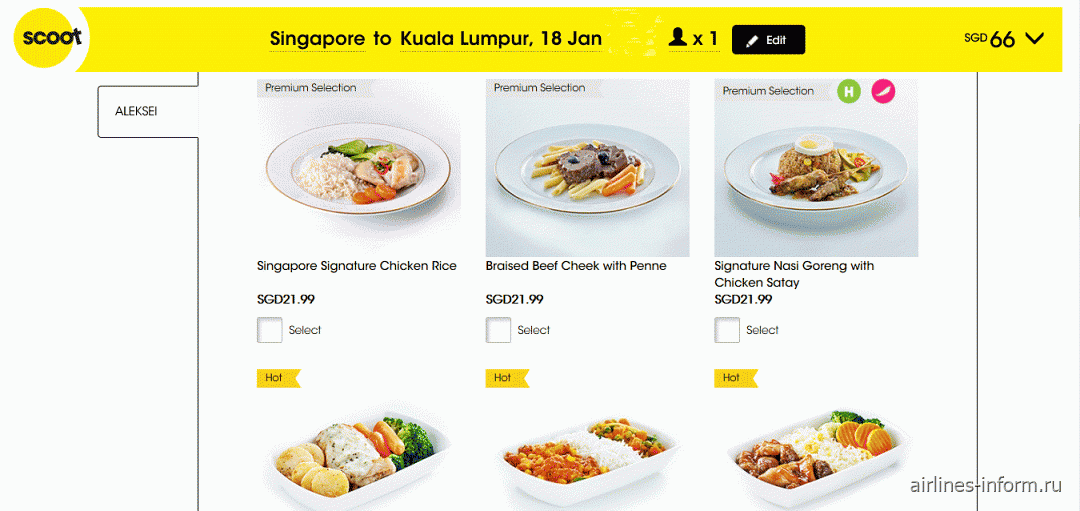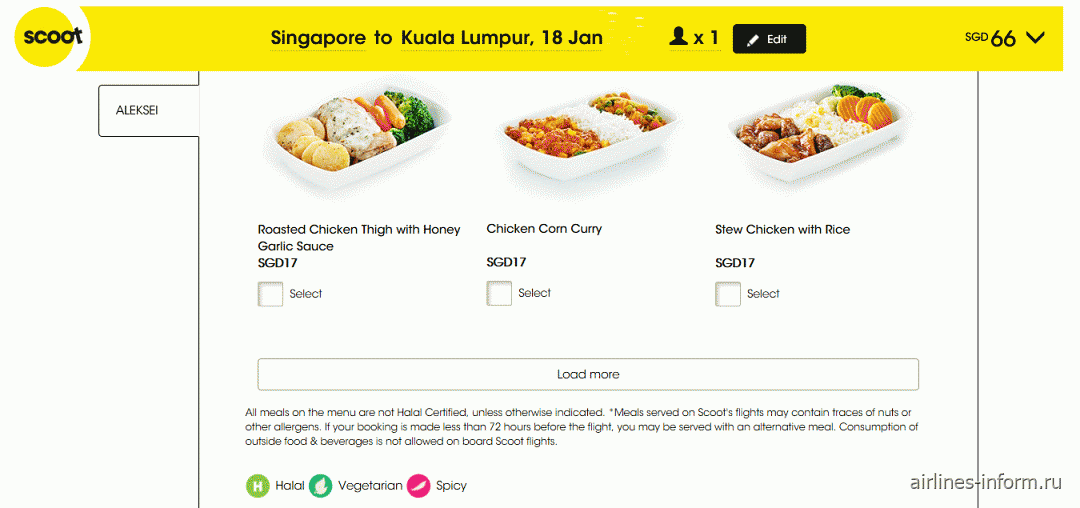 Choice places - just by the window or by the aisle costs 7 SGD (400 rubles). Seats in the front rows (2,3,4 rows) give 10 SGD (600 rubles). The best seats in the 1st row, where there is more legroom, cost SGD 27 This is a little over 4000 rubles. at the current exchange rate. This included a ticket without meals, but with luggage of 20 kg, as well as a choice of a window seat in the back of the cabin. The duration of the flight is exactly 1 hour.

2. Departure from Singapore - check-in at Terminal 2

Singapore Airport Changi outstanding in the world. Therefore, I arrived for the departure in advance in order to have time to inspect the airport. But it was still not possible to see everything. Singapore Airport is a whole city, you can spend the whole day here if you wish.

Changi Airport has 4 large passenger terminals. In the diagram, they are located quite compactly. But in reality, the terminals are huge and you can't move between them quickly.


I arrived in Changi by taxi, directly to the Terminal 2 I needed. Therefore, I cannot tell you how to get to the airport by public transport. I do not have such information.


Singapore Airport looks attractive from the outside. A whole avenue of tropical trees refreshes the area.


In front of Terminal 2, it is easy to notice the huge building of the Crowne Plaza Hotel.


Next to it is no less huge car parking.


The entrances to the terminal are covered with a canopy that protects passengers from heavy tropical rains.
The check-in counters for Scoot flights are located near entrance 5, as indicated by a large sign by the road.


The information is also duplicated directly above the entrance.


I go inside. The terminal is very big. The far end is somewhere far away.


The terminal has a large sector for self-registration. Such areas in Singapore are referred to as "FAST Check-in". And they take up a lot of space.


The procedure is like this - first check in at a kiosk, and then check in at the next counter.


Your ticket is easy to find just by scanning your passport.


Then the baggage ticket and luggage tag are printed here.


The main thing is done. Now it's time to look around at the airport. I looked into the far corner of terminal 2 - behind the registration sector.


Looked at the bears (where in Asia without them?)


Then went down one floor to the arrivals hall.


3. Arrivals Hall in Terminal 2
The arrivals hall is no longer as elegant as the departure hall. Work area with lower ceilings but just as large.


In the center of the hall there is a large information stand with information about connecting flights. Singapore is one of the largest airports in Asia, many fly through it with a transfer. This is facilitated by the possibility of visiting the city without a visa for 3 days.


Interactive screens help you navigate at the airport and find the gate for the next flight.


I continue my tour further. My plan is to visit nearby terminal 1. Signs help you understand where to go.



4. Skytrain

For passengers between terminals 1 and 2, as well as 1 and 3, an unmanned train (and in fact - trams) called Skytrain runs.


Carriages are constantly scurrying back and forth along specially laid rails.


Travel is free. The station is located on the very edge of Terminal 2.


The trains consist of only 1-2 cars. Trams run on one line between the common areas of the terminals, on the other - between the clean areas. BR]5. Terminal 1 - departure hall

Terminal 1 is more strict and technologically advanced, unlike the 2nd. Similar to US airports,


Major airlines serve here. Further, for example, the Emirates check-in area.


The "FAST Check-in" self-check-in area here is even larger than in terminal 2.


The kiosks themselves are more modern and technologically advanced.


Singapore Airport is famous for its "chips" to entertain passengers. Some of them can be considered works of art. One of them - "Kinetic Rain" is located directly opposite the check-in counters in terminal 1.


Golden drops perform a whole dance, moving synchronously in a different rhythm. It looks very bewitching. Scroll through the photos in a slideshow or watch the video below.]


[/SLIDER]

Unfortunately, at the time of my visit to Singapore, the entertainment complex "Jewel" (Pearl) with a spectacular waterfall, as if flowing from the roof, had not yet opened. This complex only enhanced the uniqueness of Changi Airport.


6. Changi Airport Clean Zone

It's time for my departure and it's time to move to the clean zone. As in many other airports, the shopping area begins immediately after security control.
There are a lot of shops at the airport. This is a real shopping center.


But besides trade, you can find other interesting locations. For example, these cafes overlooking the platform:


Or this "green corner":


Not so big when viewed from afar, however, this green area is quite spacious and cozy if you dive inside.


There is even a small pond here with fish.
Another cozy place that struck me is "Sunflower Garden".


At its core, this is an ordinary street terrace. But decorated very cozy due to the garden with sunflowers.


In addition, this is where the smoking area is located. Open cabins for smokers in the next photo can be seen in the distance - under the control tower.


For non-smokers, the terrace overlooks the platform.


Several photos airport life. Traffic at Changi Airport is very active.

Singapore's Silkair Boeing 737-800. The carrier did not survive the pandemic and ceased operations in 2021.


Airbus A320 of Scoot Airlines. This is my carrier this time, but the plane is different.


In the distance, a Boeing 787-9 of the American airline United is moving along taxiing.


And here and the liner on which to fly. Airbus A320 in Tigerair livery. This airline joined Scoot in 2017, but for a long time the planes continued to fly in the old "tiger" color.


With a Priority Pass card in Terminal 2, you can go to the business lounge.


The hall is of a good standard, like everything else in Singapore. Good comfortable places to stay and good food.


Time to land. In Singapore, this must be done in advance. In my case, the way to the exit was about 15 minutes.


A cozy small waiting room is equipped directly at the exit.


A useful addition for an airport in tropical latitudes is drinking water fountains. Moreover, they are made at different levels - for children and adults.


Boarding the plane through the sleeve.


7. On board the Airbus A320 of Scoot

And so, we go on board.


Photo of the cockpit of our airliner:


Let me explain what Scoot is. It is a subsidiary of the premium airline Singapore Airlines (Singapore Airlines), known for its high standards of service. like in Europe. In 2017, the carrier's owners bought another Asian low-cost airline, Tigerair, to integrate the latter's route network and fleet into Scoot.

Currently, the Scoot low-cost airline operates both medium-haul airliners of the A320/321 types, as well as long-haul Boeing-787s. The route network covers flights from Singapore to Asian countries, to Australia and to China.

Since this is a low-cost airline, the aircraft is made in a mono-layout, one long economy class cabin.


Good old style armchairs - soft, comfortable, with reclining tables.


Upholstered in black leather . In general, the interior looks solid.


During this tour, I managed to fly several Asian low-cost airlines at once. And I want to note that they are all "excessive" low-cost airlines. Fresh aircraft with good comfortable seats, a wide range of additional services for an additional fee.

Scoot is no exception to the general rule. For a fee, here you can order a quality lunch of European or Asian style, various drinks during the flight. Here is an entertainment magazine for passengers, and a menu, and a catalog of Duty-Free goods for shopping on board.


All materials are decorated in the carrier's corporate colors - yellow and black. Further, for example, safety instructions.


The guides are great - young, friendly, agreed to be photographed without any problems.


The flight from Singapore to Kuala Lumpur lasts only 1 hour. Therefore, on board you do not have time to do anything. Just took off - it's time to land.


8. Arrival at Kuala Lumpur Airport (KLIA2)

Our flight took place in thick clouds. We emerged from the clouds just before landing.


Dense tropical forests of Malaysia under the wing.


The main airport of the capital of Malaysia is the so-called KLIA (Kuala Lumpur International Airport). The airport itself is quite fresh - built "from scratch" in 1998. Still more recent is the second passenger terminal (called KLIA2), which opened in 2014. This is where our flight from Singapore arrives.


KLIA2 was built with low-cost airlines in mind. And, above all, for the service of the Malaysian leader of budget transportation - the airline AirAsia. The carrier's red aircraft dominate the KLIA2 terminal.


The large passenger terminal is beautiful from the outside - black tinted windows and bright white trim contrast effectively with each other.


But inside it is quite ascetic. After the stylish Changi in Singapore, KLIA2 looked very pale.


Our liner upon arrival in Kuala Lumpur:


And this is the neighboring A320neo AirAsia:


General view of the apron:


At the end of the boarding gallery there is a desk for servicing transfer passengers. You can transfer from flight to flight here without leaving the sterile zone.


The baggage claim area is large and spacious.


Immediately opposite the baggage racks already shops begin.


And after passing through passport control, you seem to find yourself in a shopping center.


A very useful counter for tourists coming to Malaysia - an information center where you can get maps, booklets and get verbal information on any topic for free.


Arrivals Hall also very ascetic and without frills.


However, here you can rent a car. All the world's leading car rental companies are represented at the airport.


KLIA2 has an interesting taxi service. This is the first time I've come across this approach. The taxi rank is located under the terminal, in fact, it is located in the basement. To get to the so-called "transport hub", you need to go down the elevator from the arrivals area. Which is brightly marked with green paint for better visibility.


About 20 stands with parking for taxis are equipped below.


You go, choose a car, you sit down and go.


At the end of my review, a great view of the control tower of the KLIA2 terminal. The photo was taken from the taxi window.
In continuation of my Asian stories, see the report about the following Flight from Kuala Lumpur to Nha Trang.
Thank you for viewing my report!