KLM Royal Dutch Airlines is the national airline of Netherlands and one of the pioneers of civil air transport. The company was established way back in 1920 and is still successfully in business.

I got to fly KLM in March 2012. The trip from Moscow to Marseille consisted of two flights, with a connection in Amsterdam.

General information regarding the flights:
28 March 2012
Flight KL-0904, departure: 6:00 PM from SVO (Moscow), arrival: 7:30 PM in Amsterdam
Flight KL-1411, departure: 8:30 PM from Amsterdam, arrival: 10:25 PM in Marseille


1. Moscow-Amsterdam by Boeing 737-800

As could be expected of a modern European airline, KLM's online services left me satisfied. Their website made it easy to both book the flight and later to check in for it. Online check-in started 24 hours before the flight. I was able to pick my seats for both of the two flights. Baggage could be checked later at the airport.

Here's a screenshot of my boarding pass: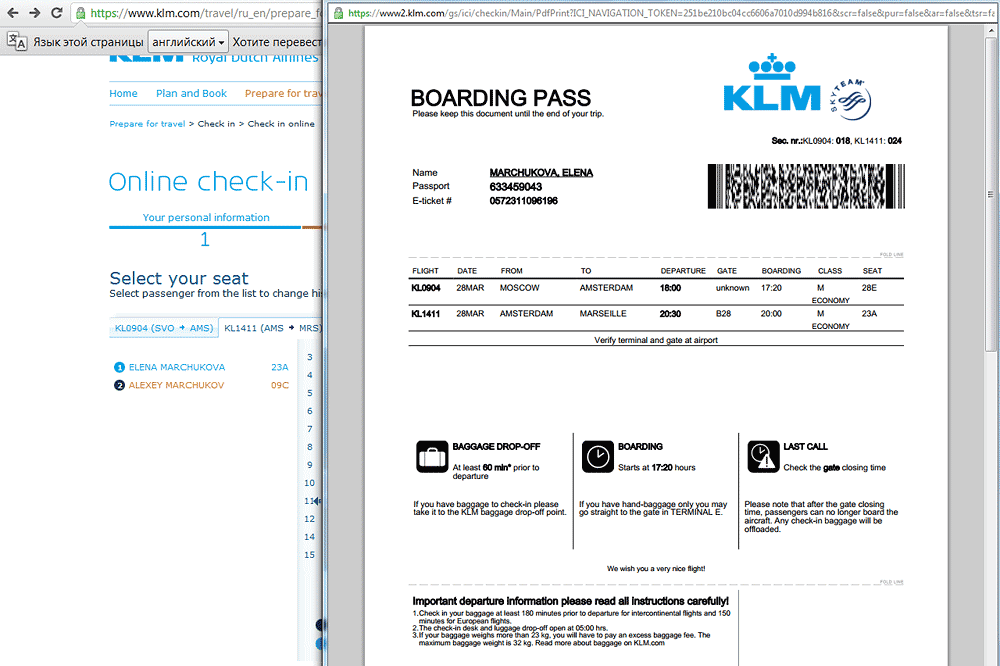 The Moscow-Amsterdam flight was departing from Terminal E of Sheremetyevo Airport. This terminal was conveniently situated, being the closest to the Aeroexpress train line, from which it was only a few minutes' walk to the check in stands.



My plane arrived from Amsterdam as I watched and began preparing for the return flight. I got to witness the entire process from the terminal window.



Boarding began only half an hour after the plane landed.




The cabin of a KLM Boeing 737-800

The plane was a Boeing 737-800 with the tail number PH-BXP. The plane was in good condition. It had modern, thin seats with blue upholstery. In fact, the whole cabin was decorated in different shades of blue - KLM's official colors.

The first of the photos below show business class seats. The seats themselves and the leg room were exactly the same as in economy class. The only difference was that the middle seats were intentionally left empty, as you can see from the notice on the headrest.



The KLM logo, which is also blue, was stamped on every headrest.



The layout of the interior is pretty standard for Boeings of the past decade, before the introduction of the Sky Interior in 2012.



The seat pocket contained the KLM flight magazine "Holland Herald", in English.




In-Flight Service

In-flight service for the 3-hour-long flight to Amsterdam consisted of non-stop servings of food and refreshments.

The flight attendants at work:



Unlike flights of comparable length with other companies, where it's customary to have one hot meal and a couple of servings of drinks, KLM takes a different approach. We were served food several times, but nothing I would call a complete meal; something more like a series of snacks. On the other hand, the complementary drinks included wine, which you won't find with most airlines.

And so, the first snack was a sandwich, with a choice of white or brown bread. We were only allowed to pick one of the two, but the photograph below shows both for comparison.



Next, cake:



Then cookies:



And by that time we were in Amsterdam.




2. Connection in Amsterdam

I should note that this was the least pleasant part of the trip.

According to schedule, we had only 1 hour to make the connection. For a well-organized airline with a reputation like KLM's this ought to be enough, or so I thought when I was booking the ticket, though I had some reservations. I felt more confident after talking to a KLM representative in Sheremetyevo Airport, who responded with something along the lines of "Nothing to worry about". However, things didn't work out quite that well.

First of all, KLM dropped the ball a bit with the sheduling. Our flight left Moscow and arrived in Amsterdam 30 minutes behind schedule. Not a big deal if you're just going to Amsterdam, but pretty crucial if your connection time is only 60 minutes.

Secondly, the terminal in Schiphol Airport is pretty big, with two long wings. The arrival gate for our flight from Moscow and the departure gate for our flight to Marseille turned out to be pretty much on opposite ends of the terminal. Walking from one to the other takes about 15 minutes. Running (as in our case), gets you there faster.

Thirdly, in order to transfer from an international flight to a flight in the EU, you have to go through passport control, which tends to have substantial lines. We were further delayed because a Dutch passport control officer refused to believe that my wife and I were merely taking a vacation, and questioned us repeatedly on where we were planning to go and how long we were planning to stay. I was finally able to resolve the issue by going into the migration control office, where I had to log into my email to prove that I had booked a hotel room and tickets for a return flight.

Since that episode, I never travel without print-outs of all my paperwork, including tickets and hotel reservations. If there had been a computer problem, we might have been stuck there a while.

The shenanigans with immigration control took another half hour, and by the end I had abandoned any hope that we would make our connection. However, it so happens that KLM flights are frequently delayed, and that the flight to Marseille was departing over an hour behind schedule.

All in all, the action thriller "Connection in Amsterdam" had a happy ending. Unfortunately, I managed to snap only one, blurry picture of the terminal while I was running around.



We departed from the very last gate of the terminal. This is because small airliners servicing short flights, such as ours don't get a ramp directly from the terminal, but instead are boarded out on the airfield. Passengers are taken there by shuttle.




3. Amsterdam-Marseille by Embraer-190

The flight from Amsterdam to Marseille was conducted aboard an Embraer-190.



This flight wasn't operated by KLM Royal Dutch Airlines proper, but by one of its feeder daughter companies: KLM Cityhopper. The livery, branding and interior were the same, however and prominently featured the KLM logo and colors.



The Embraer-190 is an attractive plane with a compact cabin, and a 2-2 seat configuration.



The plane had leather upholstery. The seats themselves were a little more cramped than those on the Boeing 737, but the leg room was still sufficient, especially for a short flight.



A distinctive feature of Embraers is the high positioning of the windows. This way you can look out of them more easily without needing to duck your head like on the Boeing 737 (in the 30 years between the design of these two airplanes, the height of the average person increased, and the plane's designers took this into account!).



Further elements of the plane's interior:



The food wasn't anything to write home about. We were served sandwiches, crackers and wine (or water and tea if that's what you preferred), just like on the previous flight.



We arrived at the deserted Marseille Provence Airport around midnight.



I'll give a more detailed account of the Marseille Airport in my next review. Our trip back to Moscow was a direct flight courtesy of Air France.


Overall Impressions of the Airline:

Pros: planes in good condition with well-kept cabins, the airline's blue livery is consistent throughout.

Cons: though the delays ended up working out in our favor, they could be a cause for concern in other circumstances. Also, the food could've been better; flying all the way across Europe on nothing but bread and crackers wasn't very pleasant for me personally. Your mileage may vary.